What we do?
In our work we use the following tools. We use the most advanced
technologies and constantly study new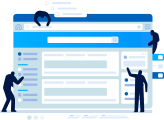 Website Development
Landing page
A landing page is necessary for advertising goods or services. It allows you to quickly get the first customers
The business card site
The business card site is an optimal option for posting basic information about a company, person or organization. The information is presented in a concise and understandable form
Corporate site
Corporate site - a solution for companies that helps organize the work of employees, logistics of resources, and monitor the overall performance

Design
Logo development
Logo development is the first thing you need to create a brand. The logo helps recognize the brand or company. Without a logo, your brand or company won't have a unique image.
Corporate identity development
Corporate identity development means creating a corporate style when you already have a unique logo. In this style everything will be made out: a site, clothes of employees, working premises, business cards, etc.
Internet commerce
Online store
Online store - a trading platform for the sale of goods, services, content via the Internet in your region or all countries of the world.
Theme for the online store
Theme for the online store - various design options and online store design that will help highlight your store from many others and make it memorable.
Modules for the online store
Modules for the online store - additional modules that allow you to expand the possibilities of the online store.
Web API Development
Interaction between systems
Interaction between systems - provides data transporting between server and client using HTTP request

Application
Web application
Web application - a site built on the principle of the application. In a nutshell, this is the application working in any modern browser.
Our technology
In our work we use the following tools. We use the most
advanced technologies and constantly study new
Database
MS Sql Server
My Sql
Entity framework
Frameworks
Asp.net MVC
Asp.net Core
Laravel Framework
Angular, Knokout, jQuery
Bootstrap, Materialize
NopCommerce
Order software development