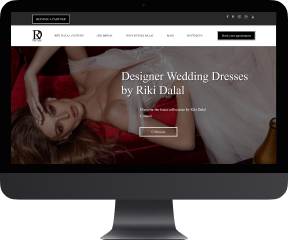 Summary
Riki Dalal is a famous wedding wear brand based in the UK. This is a platform not just to sell wedding dresses, but also to explore the unique brand concept and get consultancy from professional advisors. The customer asked us to develop a website that would become a place where future brides can dive into the world of couture and find a perfect dress. They asked us to pay the most attention to UI/UX design. An attractive and functional design had to highlight the unique brand concept and create a convenient environment for users.
Our customer wanted us to create a helpful and feature-rich platform for a convenient sales process.
Challenges
We built this platform from scratch and the development took 3 months. Our team focused on thorough planning, as the future website aimed to perfectly fit the requirements of such capricious customers as future brides. We decided on the following development plans:
Develop a mobile-first platform
Reach maximum loading speed
Create a multifunctional design
Integrate social media
Enable easy and fast image displaying
Add booking an appointment at an offline boutique
Include a geolocation-based search option
Development
This is how we worked out all the difficult tasks and created a unique website for a wedding wear brand. While developing this website, we made the mobile user experience a priority.
Attractive design
First, we started working on the most important element of this website - an attractive and unique design that would be consistent with the brand image. Our designer created a stylish, yet minimalist interface that focused the user's attention on the wedding wear and didn't feel overwhelming. We opted for white background and a stylish combination of beige and black colors. Such a design underlines the solemnity and importance of the future wedding.
Homepage
The homepage includes the basic functionality of an online boutique and highlights the unique brand image and history. On this page, the users get an overview of the latest collection. They can also start searching for their ideal dress after choosing a style. We also added the opportunity to find the nearest boutique and a contact form.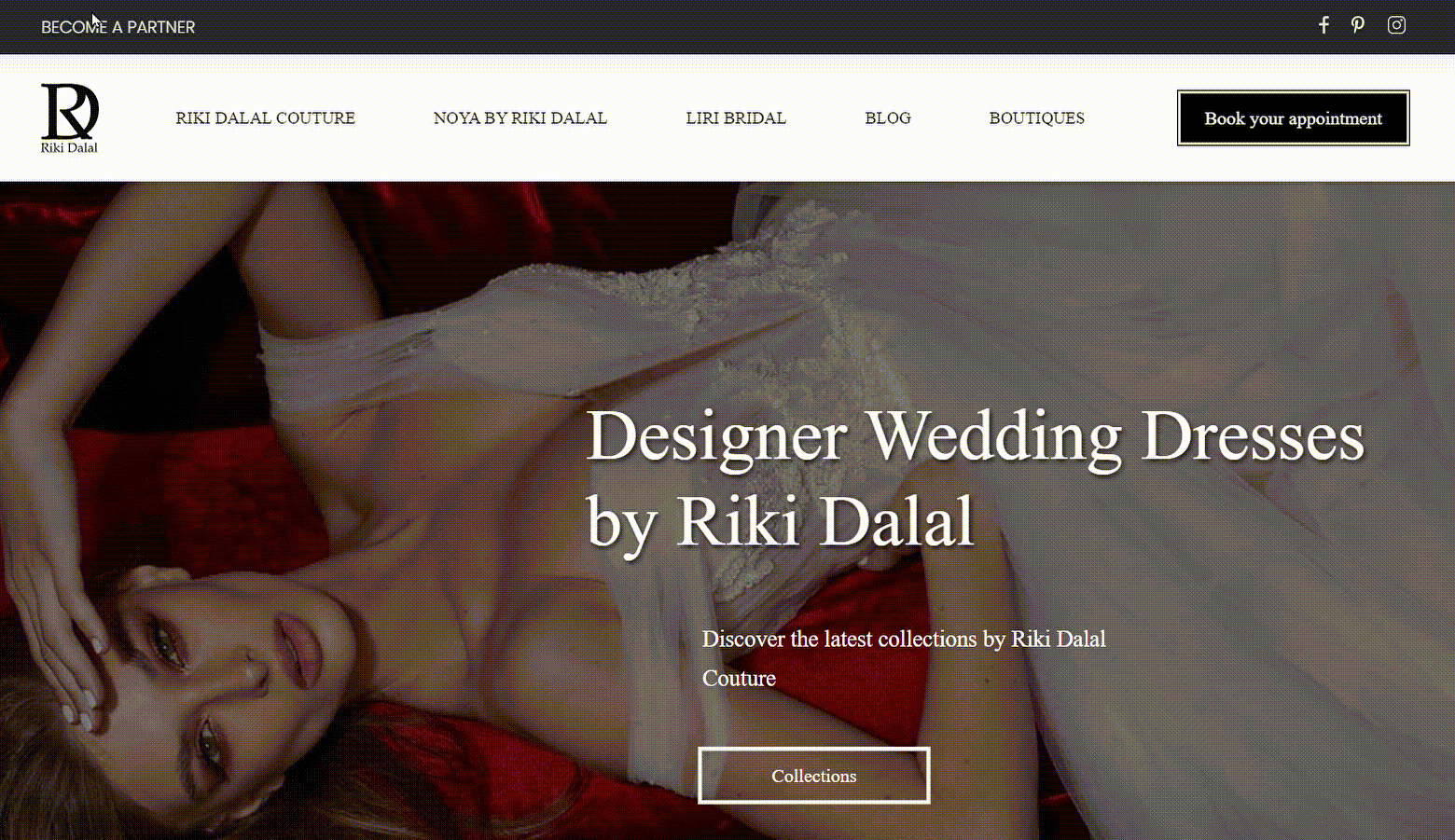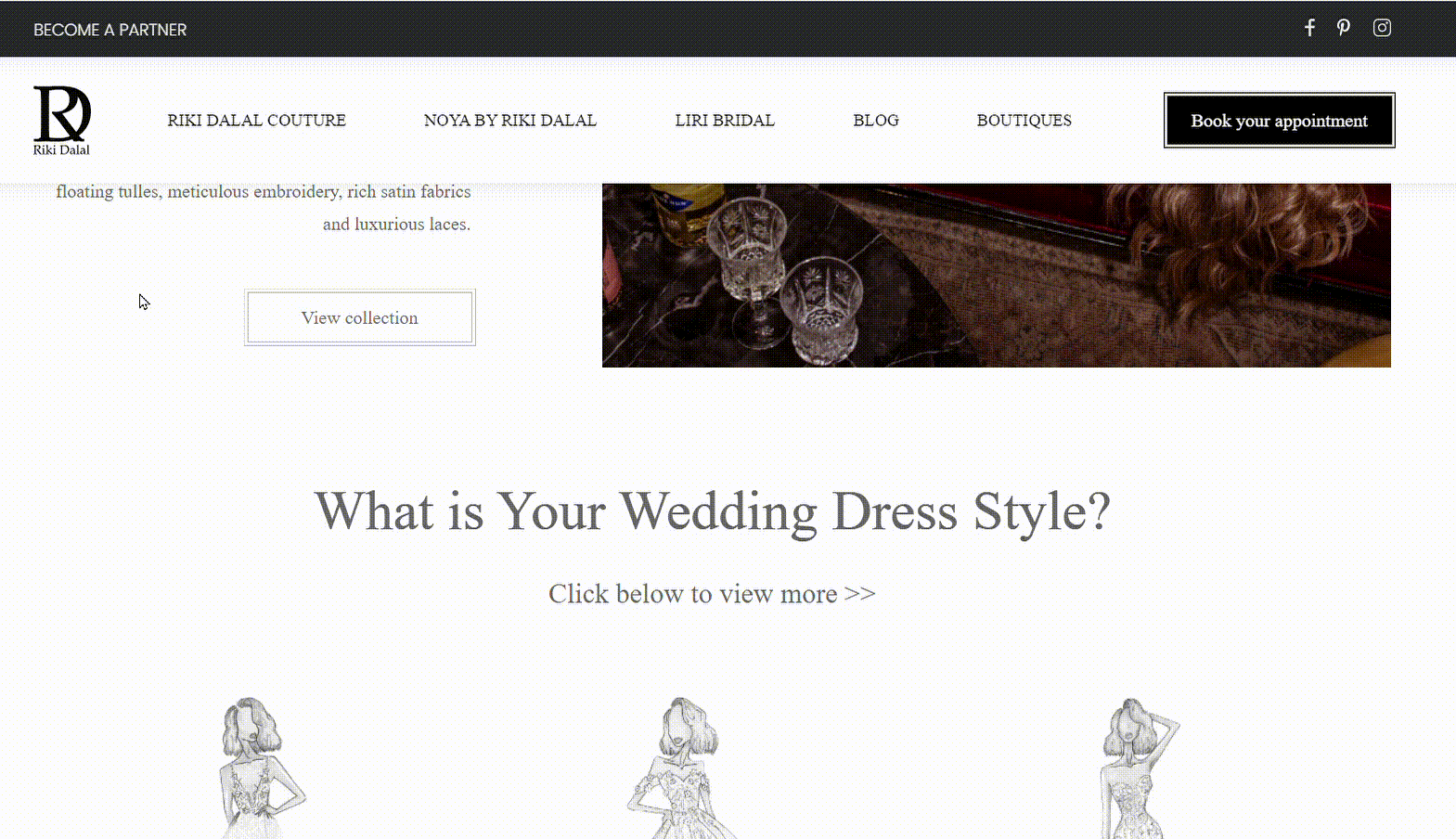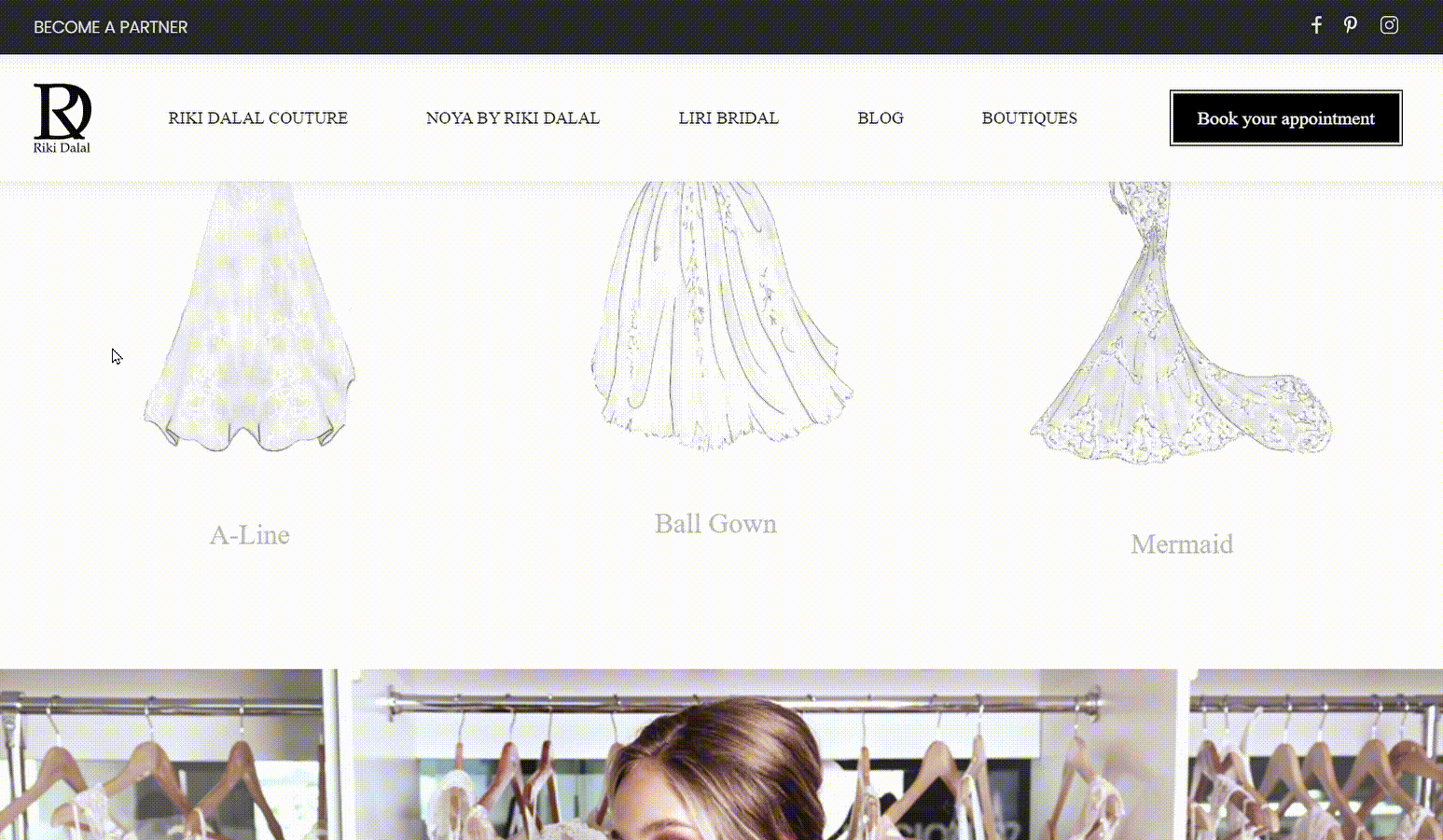 Search filters
After the customer chooses the brand line and collection, they can filter the search by neckline, silhouette, and sleeve types. We also added the ability to mark certain dresses as favorites.
When the user hovers a certain model, they preview a description of this dress.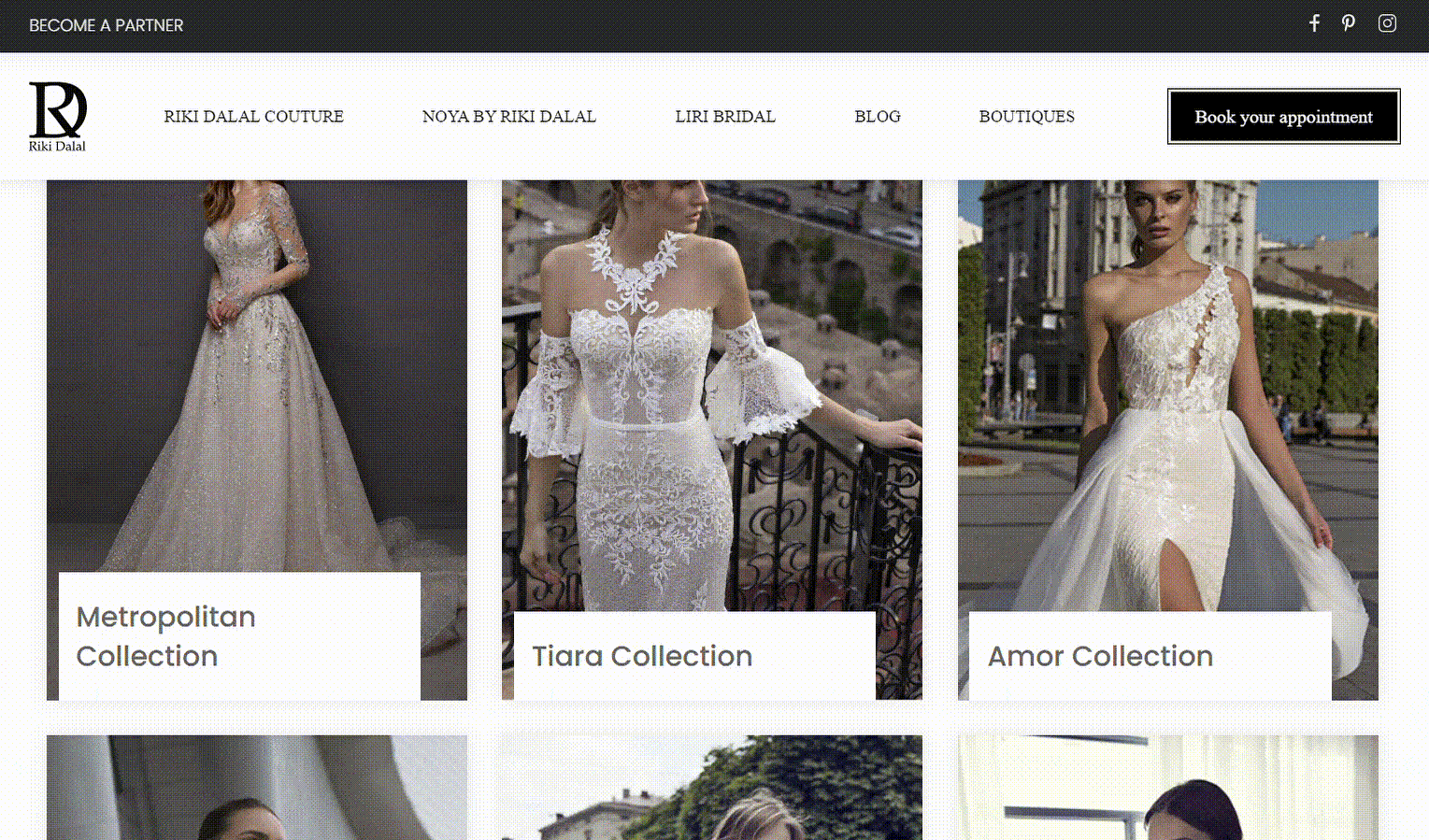 Product page
We created such a convenient product page for both mobile and desktop users . They can easily view the product, add it to favorites, share a link via different social media and request a price. The highlight of this page is that the customer can see the photos of real brides in this dress. We utilized a special AMP web pages technology to develop a lightweight page with fast loading speed on any device.
Booking an appointment
We created a user-friendly form to book a bridal gown fitting. Filling it in takes only a few minutes as all the steps are logical. First, the user should find a boutique in their country or city, select a date and hour, and then give the contact details.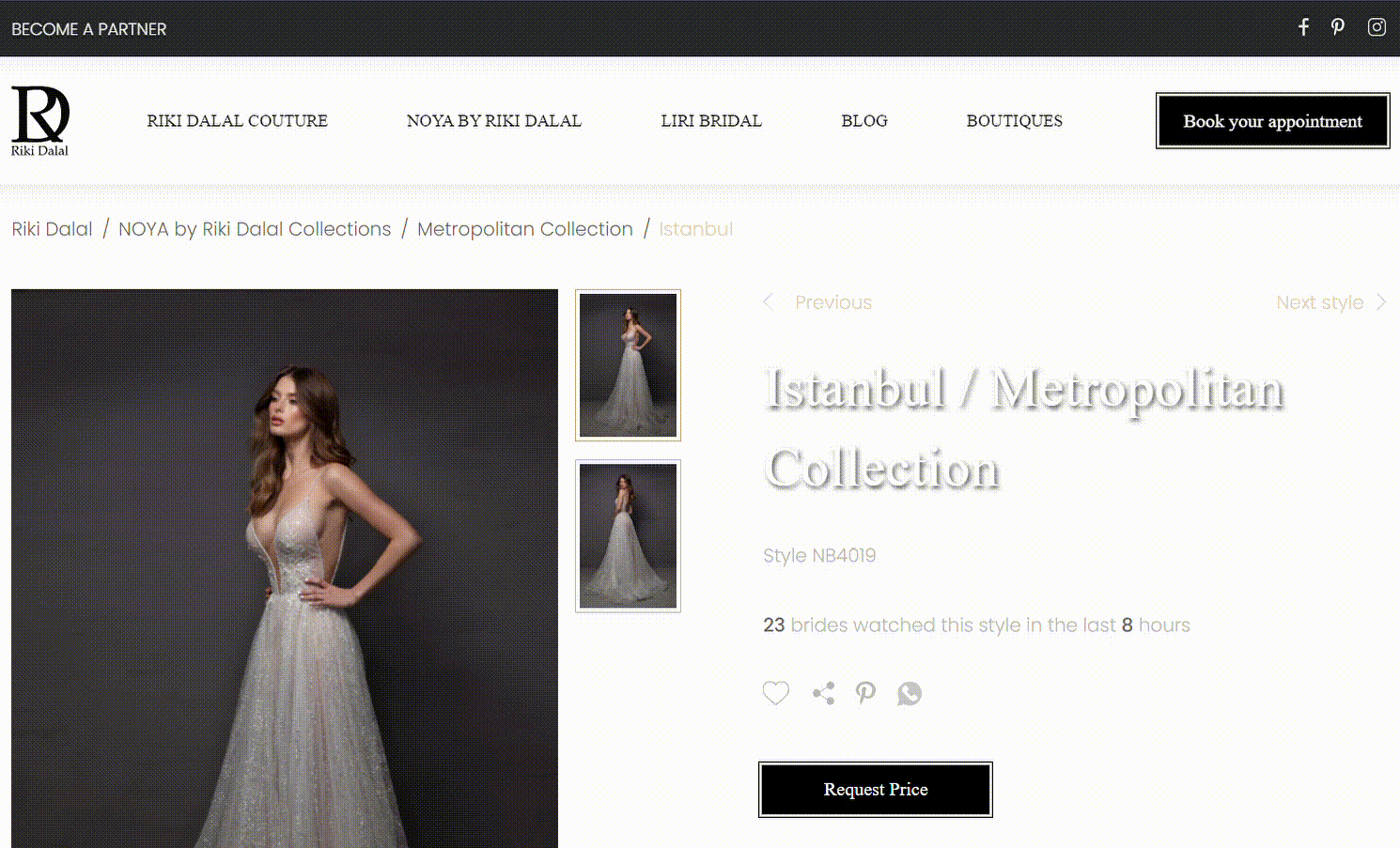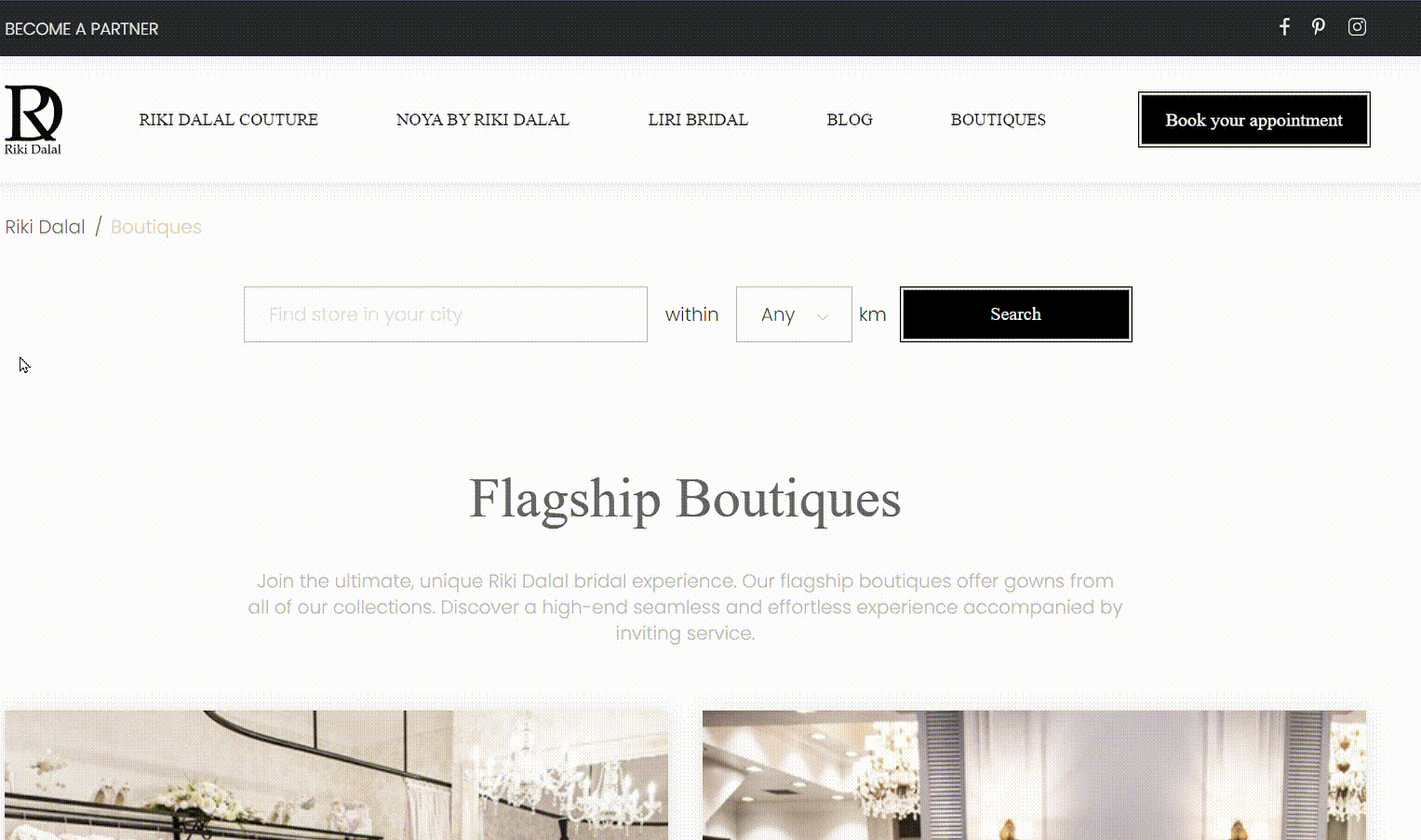 Customer support
On every website page, we included a convenient application form to get in touch with brand representatives. It enhances the customer experience, as the managers answer all the questions quickly and the potential customers receive an answer via their email.
Technologies We Used
The website was built with PHP 7.2. This version enables faster loading speed and enhanced security. We also utilized OpenCart 2.3 - one of the leading platforms for E-Commerce software development. It is equipped with extensive functionality and makes your store accessible for a wide range of devices.
Our team also utilized an AMP technology that enabled us to speed up the page loading time for all mobile devices and tablets.
We integrated the leading social media of the brand via third-party APIs: Instagram, Facebook, and Pinterest. This connects the website to the main marketing and sales channels and makes it an integral part of the whole brand presentation.
Results>
The result of our development is a mobile-first E-Commerce website with a unique and attractive design. We chose optimal technologies that serve as a middle ground between the fast loading speed and enriched website functionality. We highlighted the designer brand identity and presented all the necessary features for the online wedding wear store. The users receive a polished experience from any device.
Discuss your pojects with our specialists
We are a reliable partner for your software development needs. Our priority is a long-term partnership.
Contact us