Top 7 Trends in Outsourcing Software Engineering: What to Expect in 2022?
Learn about the state of the tech outsourcing market and 7 key tendencies that will disrupt it in 2022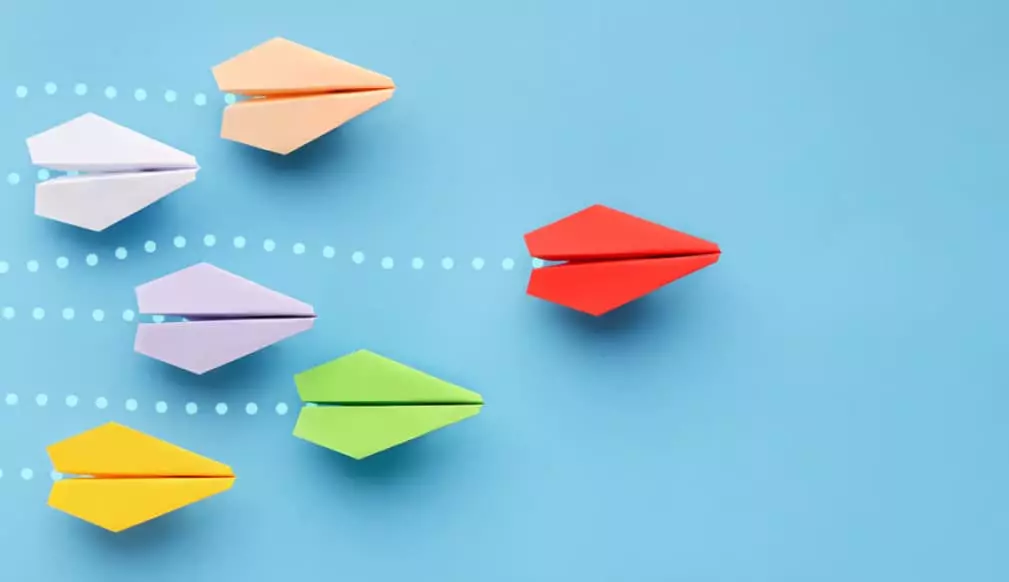 Living in times of uncertainty makes business development more difficult. Organizations postpone projects waiting until their employees come back to the office. Business operations became more dependent on software. Most companies experience a huge lack of in-house resources.
To solve talent shortages and increase flexibility, enterprises turn to offshore teams. Outsourcing software development trends have changed due to the pandemic. Check out this article to find out how they shape the industry in 2021 and continue in 2022.
Post-Pandemic Outsourcing: Key Trends for 2022
Increasing need for specialized companies The dramatic development of the IT industry draws focus on outsourcing certain tasks and processes. The talent crunch of the in-house development teams leads to increasing unrealized revenues. In 2019, there were almost 1M unfilled positions for software developers in the US.
Organizations try to eliminate this gap by hiring more staff. Their key aim is to partner with software development companies with expertise in a particular technology or area.
Flexibility is imperative for vendors
The approach to outsourcing partnerships is shifting along with the client demands. First up is restructuring the teams depending on the ever-changing circumstances. Willing to save costs as never before, service providers need to be agile and reorganize teams within the shortest time. With a diverse choice of tech skills, outsourcing helps bring the desired specialists onboard for low hiring costs.
Enterprises will look for partners for IT outsourcing adaptable to their company culture and ethics. Agility is the game-changing outsourcing trend. Companies will establish closer connections and integrate offshore teams with their organizations.
One more significant tendency is technical flexibility. Outsourcing software development companies should be interested in applying cutting-edge technologies. Service providers that pay attention to upskilling their specialists will be in higher demand.
A fresh start for project management
The COVID-19 outbreak has also demonstrated many organizations are not ready for handling complex processes. Hence, new approaches to manage projects within new reality are a new IT outsourcing trend. They will continue to prevail in 2022. Lack of communication with the outsourcing team is the main reason for losing control. Video-conferencing (Zoom, Skype, Google Hangouts) and productivity (Trello, Jira, Slack) software work great for remote development teams. Informal meetings, knowledge exchange, and staff education help establish relationships.
Outsourcing software development moves east
TThe outsourcing potential of Eastern Europe keeps growing. It is an attractive location for offshore outsourcing for good reasons:
talent hub of 1,3M tech specialists
minimized the time-zone difference
high level of English language proficiency
cultural similarity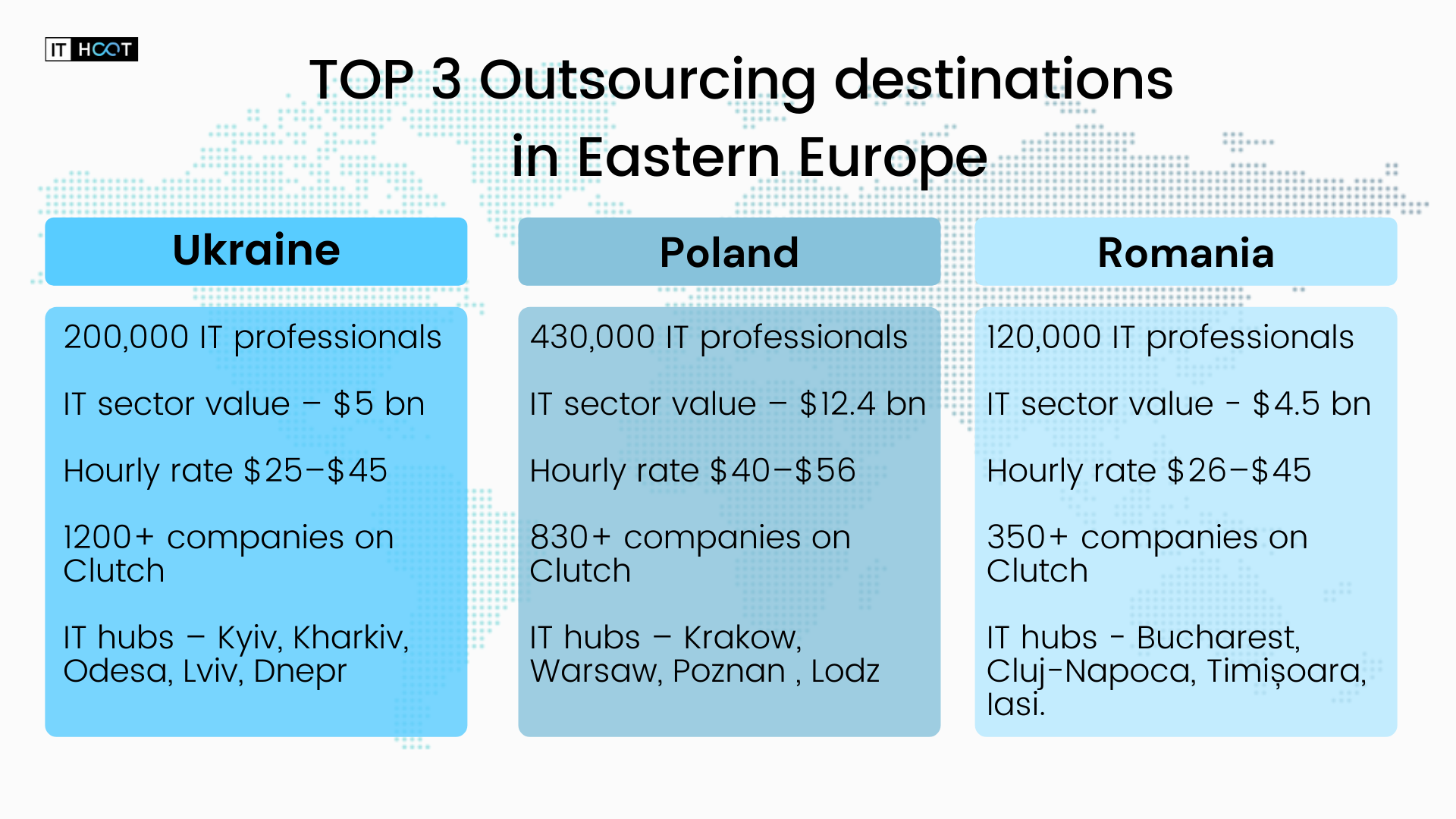 Ukraine remains one of the most popular destinations with over 4,000 tech companies. Extensive experience and bargain prices are a magnet for many companies to find an IT outsourcing partner in Ukraine. The main target markets of software development companies from Ukraine are the US and Europe. The stats reveal that the Ukrainian IT industry grows by 26% each year.
Cloud computing boom
The COVID-19 pandemic has accelerated the cloud revolution. Most enterprises are interested in taking advantage of this technology. However, they lack in-house talents to put this trend into practice. Service providers that migrate enterprise software or offer ready-to-use solutions will attract clients. In 2020, cloud services generated revenue of over $300 billion.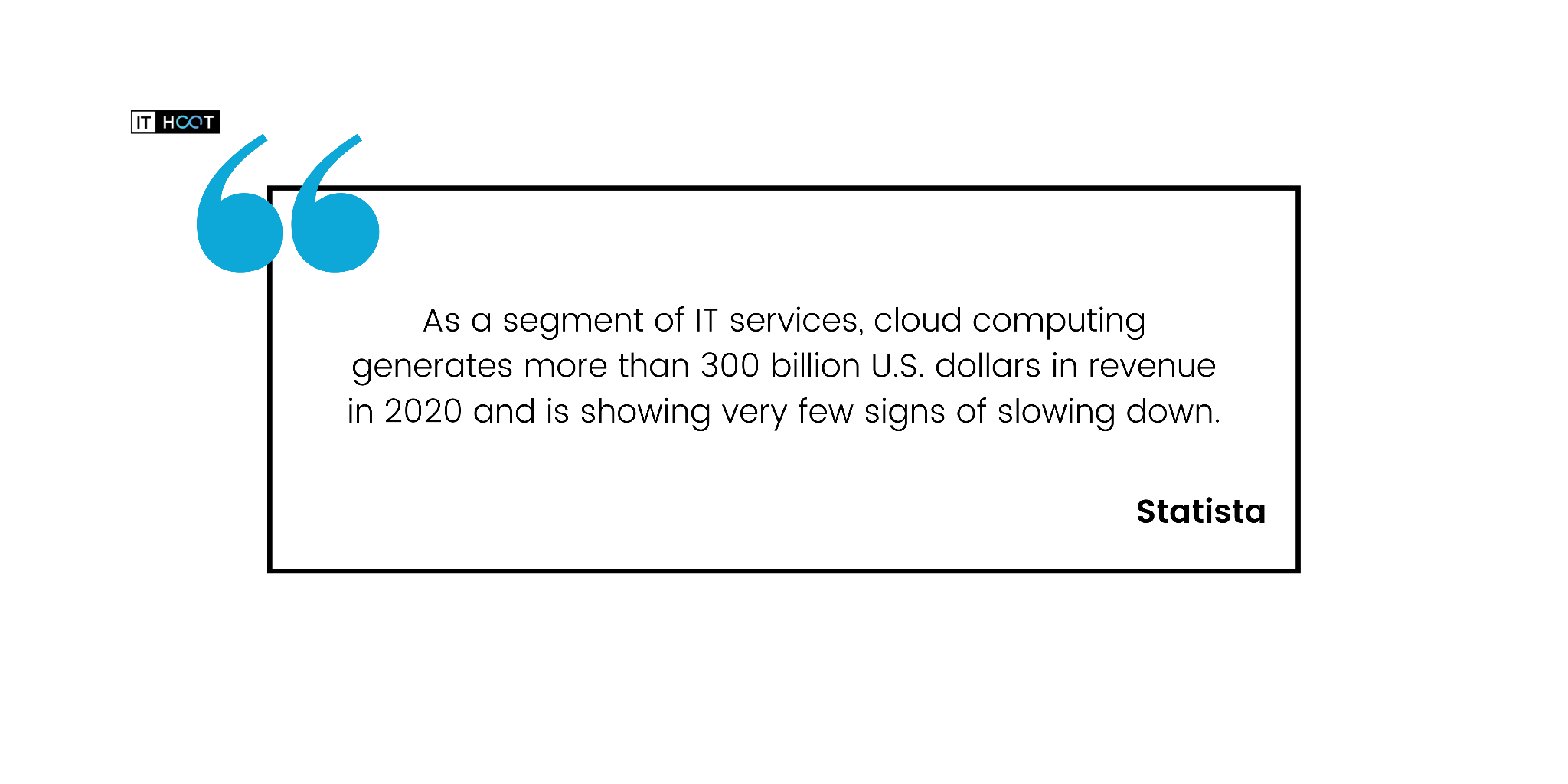 According to the Global Outsourcing Survey 2020 by Deloitte, organizations want to reduce their budget on information management. They are ready to sacrifice their data centers.
Enhanced cybersecurity is essential
The pandemic outbreak has highlighted the weak spots of enterprises and tested all the aspects, including cybersecurity practices. According to Marketsandmarkets, the global cybersecurity market size is expected to grow by $345 billion by 2026. The main driver for such dynamic increase is digitalizing business management.
Enterprises are taking action to make sure their sensitive information is safe from outer threats, not overlooking remote development teams. This software development trend is growing rapidly. As stated in the Gartner survey, the investments in cybersecurity are going to increase up to 31% compared with 2020. Security experts who can guard company infrastructure, networks, and data are going to be demanded. Besides, new security policies emerge to regulate the access of remote employees and minimize system vulnerabilities. Most companies focus on regular security audits and compliance with standards.
Single-vendor partnerships
Outsourcing companies were considered as go-to guys for small and inexpensive projects. In 2021, companies will shift from hiring working hands only to building strong and lasting relationships. This 2021 trend entails more responsibility and involvement between the outsourcing partners.
Yet, these relationships are more productive due to better communication and involvement. The organizations get access to a huge pool of skills and enable continuous knowledge transfer.
Developing a strong partnership is a complicated task for most organizations. Succeeding in it means harvesting results for many years. This tendency is forecasted to go beyond. Moreover, offshore development teams will integrate into the clients' companies and deal with all task types. The teams will become more dedicated and focused on the client's goals.
In-demand tech jobs for 2022
Having a deeper insight into the IT outsourcing industry in 2021, we can spot what jobs and specialists will be needed the most.
Security experts
Companies are ready to invest in cybersecurity specialists. They minimize the flaws of their internal systems and protect sensitive data. Organizations need specialists to conduct regular audits. Compliance with the latest security standards and laws is also their responsibility.
Cloud architects
The trend for cloud-based services is growing. Hence, people with deep expertise in cloud architecture become valuable assets for any company. Their responsibilities include management and scaling cloud-based apps. Cloud architects should also be able to deploy and support seamless software and cloud operations.
Database administrators
Data is the key value influencing the success of a business effort. Companies are searching for specialists who manage and analyze databases. According to the US National Bureau of Labor Statistics, employment of database administrators is going to increase 11 percent from 2016 to 2020, which is faster than other occupations.
Security experts
Companies are ready to invest in cybersecurity specialists. They minimize the flaws of their internal systems and protect sensitive data. Organizations need specialists to conduct regular audits. Compliance with the latest security standards and laws is also their responsibility.
Security experts
Outsourcing software development is a beneficial cooperation model. Businesses involve top technology talents to build high-end solutions. The cost-efficiency of this approach plays a decisive role and attracts more businesses. Getting over the outcomes of the COVID-19 pandemic, companies will focus on enhancing their agility. Another global trend is to establish strong relationships with experienced outsourcing service providers.
IT Hoot is a team of middle and senior .NET developers. We offer full-cycle web development, API development, and software modernization services. Since 2018, we have been helping startups and enterprises build software solutions. Contact our team to see how we can help.