CMS vs. Custom Development - What to Choose?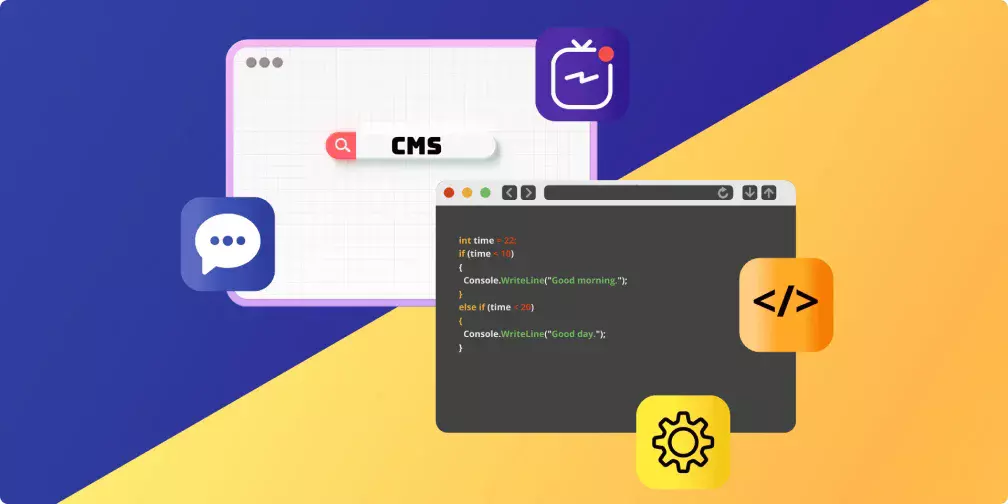 The first thing to consider before representing your business online is choosing the approach: Content Management System or Custom Web Development.
CMS is more suitable for websites that only convey information without essential interactions, such as online newspapers or landing pages. Meanwhile, custom development can create complex web applications, for example, marketplaces, which give a vast scope of functionality. There are a few more factors to consider:
PRICE
CMS is cheaper for launching simple websites, but without considering future growth and maintenance. As soon as you gain more users with higher demands, more functionality is necessary. Unfortunately, CMS doesn't provide as many features as custom development, that's why, sooner or later, you will hit a roadblock and have to double the expenses.
TIME TO LAUNCH
Custom Development implies writing the code from the get-go, which always takes much more time than creating the website with the help of ready-to-use patterns available with CMS. Nevertheless, CMS is better for making prototypes than full-fledged web applications. Meanwhile, custom development is more time-consuming but makes it possible to create more advanced, unique, and functional websites and opens up new possibilities.

USER EXPERIENCE
The most significant thing that can make users fall in love with your product at first sight and stay on the website longer is the user experience which depends on a few factors.
The User Interface.

Both approaches can present a good-looking page, but using CMS, it is done based on already existing widely used templates, and with custom development, the exceptional design is created from scratch.

Performance.

Nevertheless, not only the uniqueness of appearance is important but also the quality of performance. In this matter, custom development is better due to its ability to keep web applications operable even with the huge amount of requests and scope of involved functionality.

Interactivity.

Since websites created with CMS are mainly static, users cannot interact with the page or do any additional actions except scrolling. Web applications developed using custom development can include large databases and versatile functionality, for instance, sorting out products according to chosen categories.
The first impression is crucial, and with a catchy user-friendly interactive interface, high performance, and elaborate advanced functionality, it will surely be memorable.
SCALABILITY
CMS is limited by the platform's infrastructure, while Custom Development - is not. Thereby, with custom web development, all the necessary additional features can be added directly to the code. With CMS you should use plugins from an open library, and decrease the quality of performance because of possible asynchrony. Also, third-party developers create plugins that cause many dependencies and affect security.
SECURITY
Nobody wants to entrust passwords and personal information to a website without security guarantees. While CMS grants access to the website to the unknown authors of plugins, custom development gives full control over the code and provides encryption.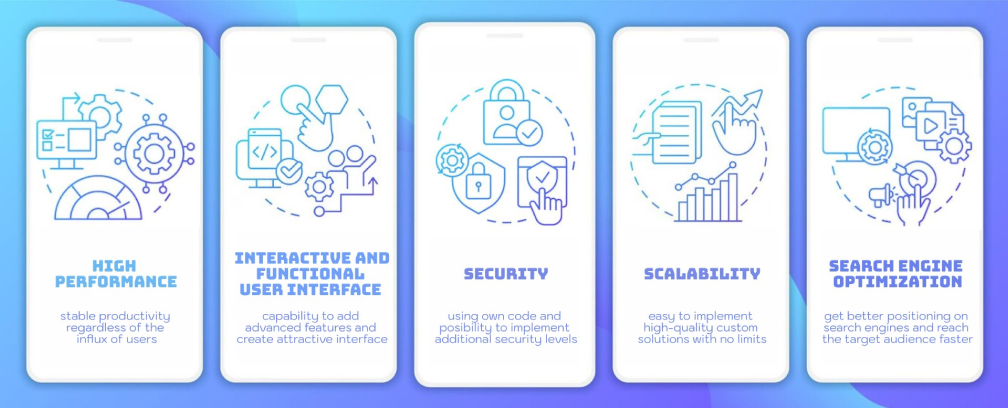 CONCLUSION
Eventually, it all comes down to the decision that will affect the whole path of your company and the promotion of the products.
Since CMS is cheaper and less time-consuming, it will be a perfect option for fast kick-off. Developing a website based on a given pattern doesn't take much time and resources. Such webpages look good and greatly fulfill their main function - to inform. However, CMS cannot guarantee uniqueness as well as solid security.
Meanwhile, custom development is a more reliable choice in the long run. With the growth of your business, the needs will increase too. In this way, custom development impresses with its scalability and ability to bear even a sudden influx of users. Also, this approach provides robust security because no third-party participants can access the code. Among others, you will get the opportunity to reach your target audience via search engines thanks to the uniqueness and better SEO capabilities.