9 Key Features to Include in a B2B E-Commerce Platfrom
A guide on multivendor B2B E-Commerce marketplace development. Nine essential features to include for attracting more vendors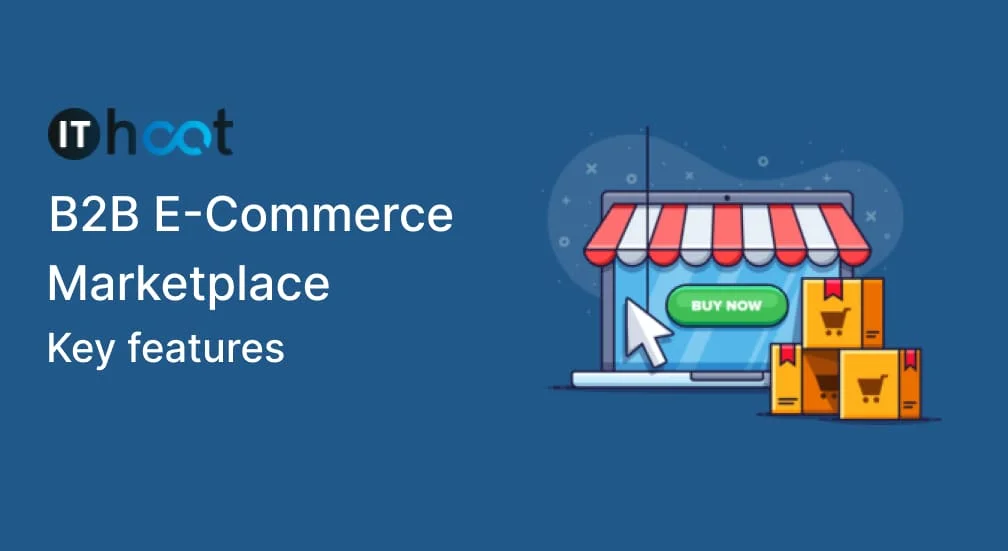 According to the stats, B2B sales have skyrocketed in the past few years. This fast-growing segment will reach $1.8 trillion in the US by 2023. If you plan to introduce your own platform for B2B E-Commerce, you need to keep in mind many factors to attract customers and improve their loyalty. B2B E-Commerce marketplace features are the core of your product. They are decisive for your business success and recognition.
What is a B2B marketplace?
B2B online platform is like a network that connects sellers and buyers from different locations and industries. Here businesses interact with each other and purchase products. Business-to-business marketplaces have more complex functionality than other online commerce platforms. Developing such a solution is wacky and demanding. Multi-vendor marketplaces have different user paths and more interaction steps.
How to build a B2B marketplace?
Most vendors have huge expectations for B2B E-Commerce platforms. Yet, these solutions are much trickier to create than their B2C counterparts. You need to consider all the necessary characteristics of B2B E-Commerce platforms. Have a look at the examples of successful marketplaces:
Amazon Business
Alibaba
Global sources
Packhelp
ThomasNet
If you are inspired by their success and want to create a similar solution, you need expert assistance. We analyzed these well-known marketplaces and singled out the essential features for a promising B2B solution.
Top B2B E-Commerce platform features
These are the basic features every vendor expects to see in a marketplace for the B2B segment. Pay attention to the groups of features below and adjust them to your custom solution. Keep in mind that personalized experience runs the game.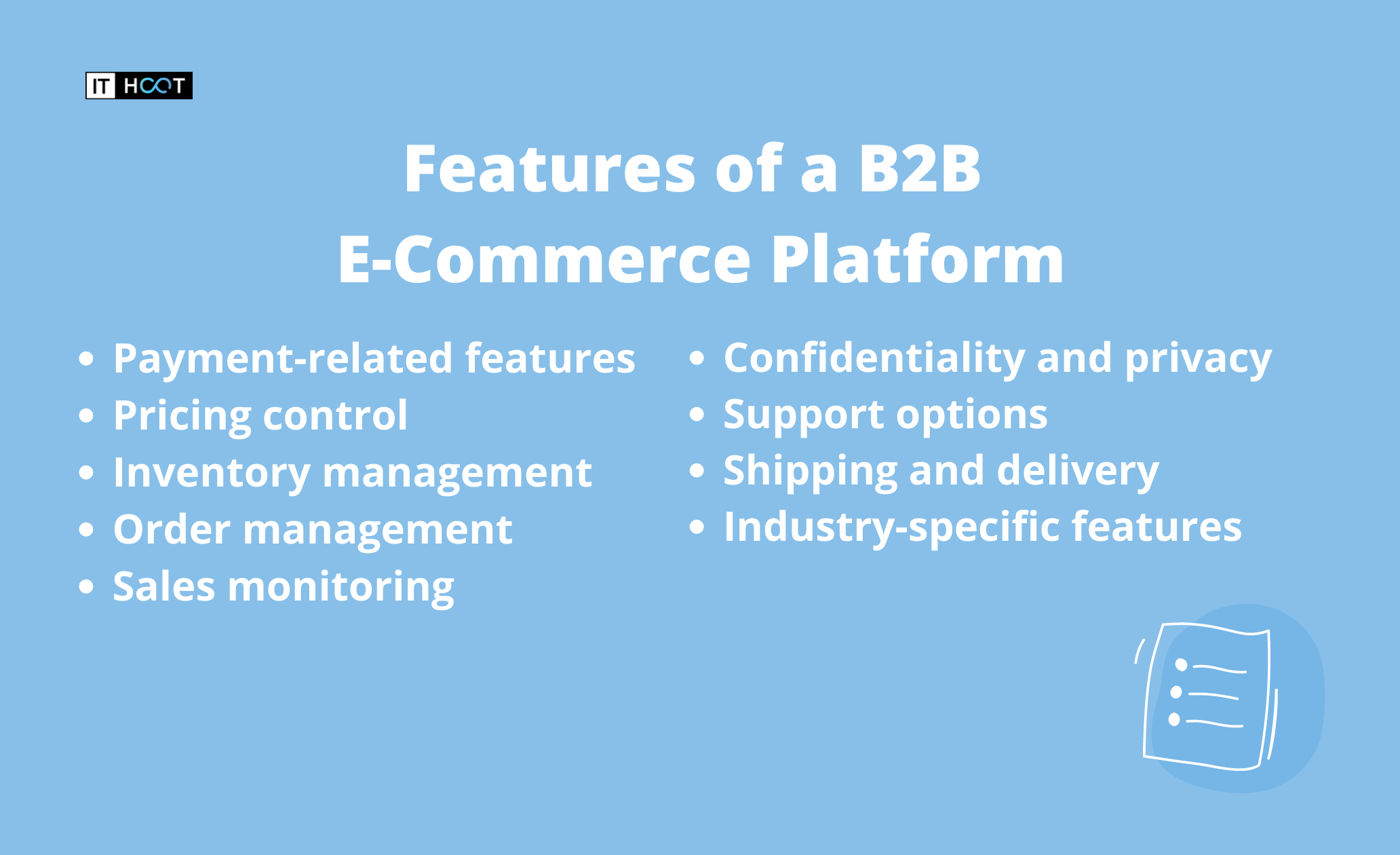 Payment-related features
The more, the merrier. This rule works while adding the payment options. Make sure to include all the popular payment opportunities. This way, your clients won't switch to a competitor platform. Consider that some popular payment options like PayPal may not be available in certain countries.
Pricing control
Managing prices in the B2B environment is always complicated because sellers deal with multiple buyers. A common practice is to have different pricing based on the customer. Here are a few main approaches to choose from:
Flexible pricing. It enables setting and changing the price according to the competitors and sector trends.
Customer-oriented pricing. This plan allows setting different prices for various segments. For example, discounts or perks for returning customers.
Quantity-dependent pricing. This is helpful while working with wholesalers where the price is lower for larger quantities.
Add an opportunity to contact the vendor. The ability to send RFPs and quotations is a huge benefit of B2B E-Commerce platforms.
Inventory management
This feature is extremely handy for vendors because they are always informed about their status of stock. A solution for inventory management will streamline the sales process. You can send notifications or emails to inform about the best-selling and not popular products and reminders to load more stock. This keeps your users up-to-date and draws more customers. The more products are in stock, the more attractive the website is for businesses.
Order management
For in-bulk sales, order processing and tracking require much attention from the marketplace. Consider integrating an order management system. Platforms also inform vendors about the order status. The ability to arrange and manage orders from numerous buyers simplifies the experience with a B2B solution.
Sales monitoring
Statistics and analytics are an integral part of any vendor dashboard. Equip it with specific features to track KPIs, forecast orders, and receive other valuable insights. Integrate notifications when the sales are increasing or decreasing rapidly.
Confidentiality and privacy
Multi-vendor B2B marketplaces should pay attention to user management. Such platforms deal with huge amounts of sensitive data like prices and product details. You need to protect users from seeing the vendor's pricing, product characteristics, and other confidential information.
Support options
One of the most important means to communicate and solve user problems is a support chat on the website. A live chat to eliminate the number of calls, a Q&A section, or user-friendly forms will improve customer loyalty. Add different contact options to meet the needs of most vendors and solve different issues quickly and efficiently. Consider different ways to display products like videos, images, etc.
Shipping and delivery
Especially pertaining to international B2B sales, convenient shipping, and delivery options are complex. Besides, users have high expectations due to their experience with B2C platforms having smooth delivery processes.
Industry-specific features
Apart from the B2B marketplace features mentioned above, you need to consider the sector-based requirements. Vendors may use your platform to display the functionality, market certain product features, etc. Pay close attention to the sector and popular advertising strategies.
Takeaways
Modern marketplaces for online B2B commerce need to stay ahead of the vendors' needs. With the growing competition in the market, developers need to make more effort to present a high-level solution. You need to rethink your relationship with customers and
Apart from the basic functionality from the list above, think of a highlight that makes your platform stand out. Place unique features at the forefront. Enhanced personalization is a great opportunity to tailor a better user experience.
Develop B2B E-Commerce platform with IT Hoot
If you want to get your business online, you need a team of experts to back you up. B2B E-Commerce platform development is a huge and responsible investment. That's why you need to partner with a dedicated and experienced team of engineers. The IT Hoot team has been developing E-Commerce platforms for many industries. We focus on tailoring engaging and interactive products.